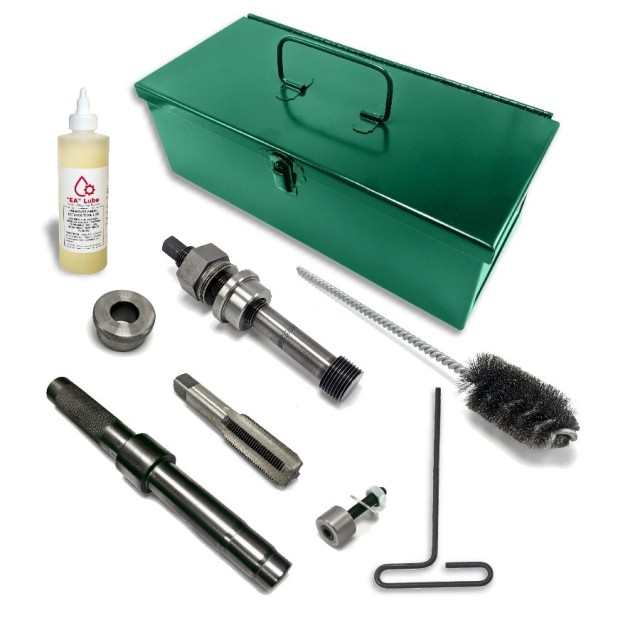 Sleeve Removal & Installation
STAINLESS STEEL INJECTOR SLEEVE REMOVAL & INSTALLATION KIT
| Image # | Description | Part # |
| --- | --- | --- |
| 1 | "EA" Tap & Lube (8oz) | 468-9910-08 |
| 2 | Small Metal Tool Box | 467-1950-25 |
| 3 | Hex T-Handle Wrench for Tube Clamp Assembly | 467-1612-03 |
| 4 | Casting Cleaning Brush (Carbon Steel) | 450-6951-02 |
| 5 | Injector Tube Clamp Assembly | 423-6334-40 |
| 6 | Tap Guide Bushing | 423-6331-32 |
| 7 | Tap | 423-6334-14 |
| 8 | Removal Tool | 423-6334-30 |
| 9 | Drive in Tool | 423-6332-10 |
| 10 | Instruction Manual (not shown) | 451-3550-06 |
ADDITIONAL CONSUMABLE ITEMS AVAILABLE
| Description | Part # |
| --- | --- |
| PACCAR MX-13 Stainless Steel injector Sleeve with O-Ring | 423-6392-05 |
| Permatex (#64000) High Heat Sealant (Sleeve Retainer) | 468-9640-00 |
Components of the Removal Tool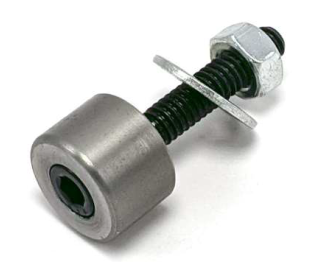 To install, remove nut and washer from the
bottom and insert down into the old sleeve so that
the threads appear out the other side. Replace the
washer and nut. Hold the nut with a wrench and
use the provided T-handle Allen Wrench down
inside the old sleeve to tighten this clamp
assembly to prevent the old sleeve from turning.
With valves removed, install the injector sleeve tube clamp (423-6334-40) though
the inside of the sleeve. Install washer and nut onto stud sticking out from face
of head and tighten with t-handle wrench (467-1312-03).
The injector tube clamp assembly will keep the sleeve from turning while tapping the
sleeve.
Using tap (423-6334-14) and tap guide bushing (423-6331-32), lubricate the tap with
"EA" Lube (468-9910-08) while tapping the injector sleeve about 3/8" to 1/2" deep.
Unbolt and remove the injector sleeve tube clamp assembly.
Insert the assembled sleeve remover (423-6334-30 shown on pg 3.) threaded puller
screw down into the old sleeve. Thread the puller screw into the sleeve until it grips
the sleeve tightly with the threads. Then reverse ½ turn to relax the threads allowing
the sleeve to be much easier to remove from cylinder head and later the tool itself.
With the bushing in place between the puller nut and the face of the casting, and with
the thrust bearing and the two thrust washers between the puller nut and the bushing,
tighten the puller nut. This will pull out the old sleeve from the casting as shown
below.
Use the carbon steel brush (450-6951-02) to clean the inside of the injector sleeve bore being sure to remove the old "O" ring and replace it with a new one, applying clean engine oil when doing so.
Apply a small amount of Permatex (64000) high heat sealant (sleeve retainer) or equivalent to lower nose section of the injector sleeve providing coverage all the way around the nose of the sleeve.
Use the Sleeve Drive-In Tool (423-6332-10) and a hammer to drive the Sleeve to the bottom of the casting. The sound of hammering will change when the sleeve is fully seated.